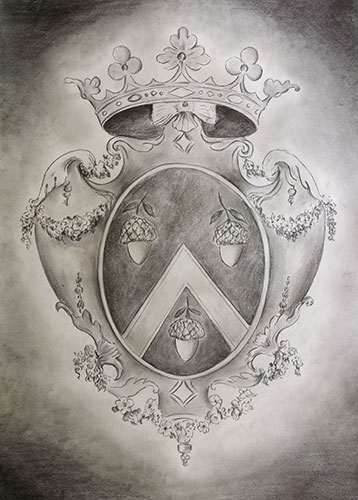 Painted coat of arms belong to our main repertoire. They can be realized on canvas with acrylic as well as on manuscript or drawing paper with watercolors or graphite pencils.
Heraldists & Coat of Arms artists
Professional heraldists are predestined for the development and registration of a new coat of arms.They have access to several required data bases, e.g. roll of arms, in order to explore the family history and findalready existing coat of arms. "Gallery Renard" does not do this investigative work. So we cannot officially register a new coat of arms , as a heraldist could do.
We produce hand-made customized artwork of existing coat of arms. Therefore, we only need the blazon or a digital template. Sometimes the fact that you are entitled to a coat of arms figure is discovered through genealogical research. So our customers often ask for upscaled paintings from old photographs (e.g. photos of ancient family trees or letter heads where the painted coat of arms are visualized). We offer various sorts and sizes of image carriers (starting with "normal" drawing paper up to finest manuscript or even natural vellum).
In case of colored paintings we respect the rules of heraldic tincture. Old monochrome lithographies have usually hatchings and punctures to simulate a particular color of a blazon. We would transform those drawings back into colored coat of arms. On the other hand we do not even adopt the tincture by using our graphite techniques (pencil, charcoal). A charcoal or pencil drawing would imitate the right colors with typical shades of gray instead of visualizing the structure of the ancient document. So our drawings are a classical black-and-white version of a colored artwork.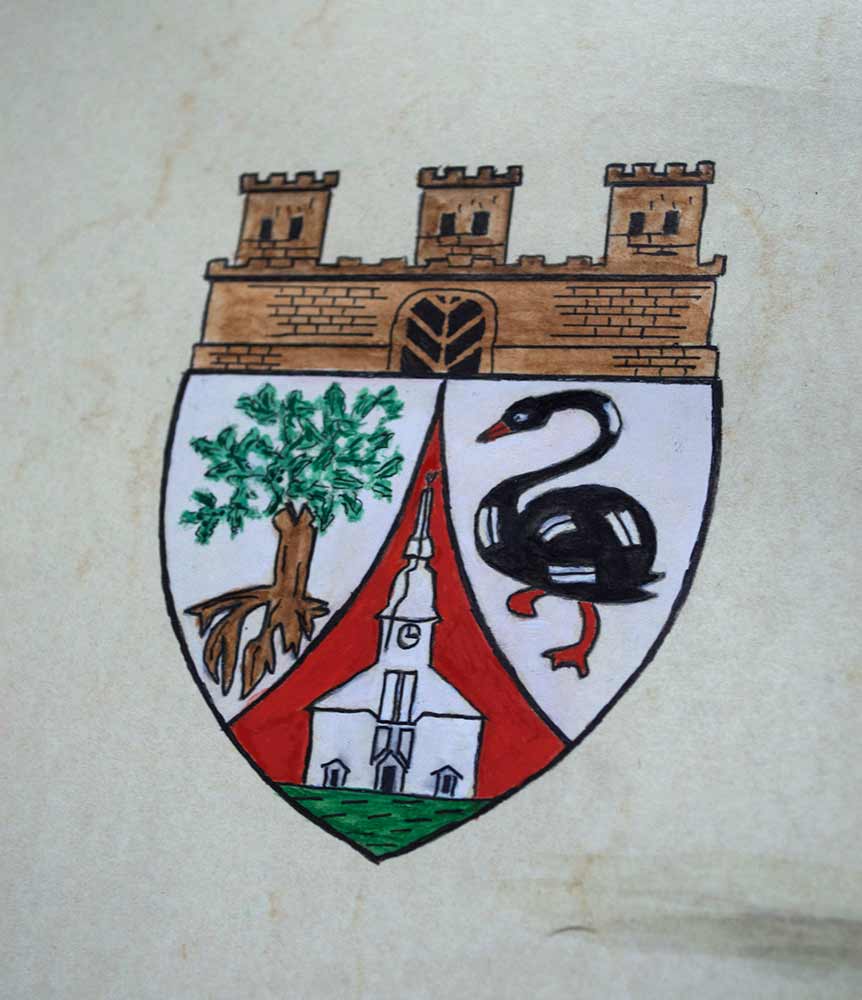 If you prefer a painted coat of arms with the classic hatchings of heraldry, you should mention it in your request. We´ll make a suitable offer.
Tincture - Coloring of Heraldry
Ancient depictions like copperplates use a special method to simulate colors in a monochrome drawing. Color shades are replaced by specified patterns. These rules are the so-called tincture of heraldry.
The following table shows examples of patterns and their colored counterparts:

In addition to classic family coat of arms, we also visualize coat of arms of cities, associations or societies. These coat of arms show the shared identity of a particular region or group of people. They are often combined with artful writings as a gift for special occasions. The possibilities to set them in scene are manifold. We are ready to advise our customers in full detail.